JEAN (SCHMAUTZ) MARKS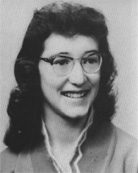 THERMOPOLIS -- Funeral services for Jean Schmautz, 66, will be held at 2 p.m. Wednesday, Feb. 7, 2007, at Mortimore Funeral Home with Fr. Joe Galligan officiating. Burial will follow in Riverside Cemetery.
She died suddenly Feb. 3, 2007, at Wyoming Medical Center in Casper.
She was born July 5, 1940, in Rapid City, S.D., the daughter of John and Helen (Ferguson) Marks. After high school, she attended Methodist Nursing School in Mitchell, S.D.
On June 9, 1961, she married Allen Schmautz in Lead, S.D. They lived in Lead, Fort Peck, Mont., Montrose, Colo., and moved to Thermopolis in 1971.
She was employed by Montgomery Ward until it closed, then at Hot Springs County Memorial Hospital in accounts payable and payroll.
She enjoyed tennis, crafts, quilting, sewing, swimming, cards, family and friends.
Survivors include her husband, children, Deborah Hax of Denver and Donald of Austin, Texas and a sister, Patty Howell of Denver.
She was preceded in death by her parents.
Memorials may be made to the Hospital Foundation, in care of Patty J., 150 E. Arapahoe, Thermopolis, 82443.