ALBERT GENE BURR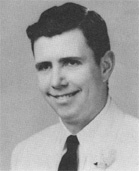 1958

Albert Gene Burr, 64, died April 22, 2002 at his home in Lead, SD. A prayer

service will be held at 3:15 p.m. on Friday, April 26, 2002 at the Chaput Memorial Chapel in Lead with Rev. William Zandri officiating. Burial will be in the Holy Cross Cemetery near Lead following the prayer service. Visitation will be from 1:00 p.m. to 3:00 p.m. at the Chaput Memorial Chapel in Lead. A memorial has been established by the family. Gene was born June 8, 1937 at Hot Springs, to William and Rose (Gamber) Burr. He grew up in Trojan, Guernsey, Wyo., and Lead. He attended schools in Trojan and Lead, graduating from Lead High School in 1958 and Black Hills State University in 1971. He married Kathleen Schiebel in Lead, in July, 1958. Gene worked at the Homestake Mining Company on the rope crew and as an naccountant in the Metallurgical Department for 18 years. He also owned and operated his own accounting offices in Spearfish and Lead.

Gene was a member of the Golden Star Masonic Lodge #9 in Lead and was also a member of the Loyal Order of Moose. He enjoyed bowling and golf.

He is survived by his wife, Kathleen Burr of Lead, his mother, Rose Dunn, Sturgis, two sons; Kevin Eugene Burr and his wife, Leslie Sanders, Evergreen, Colo., Kerry and Michelle Burr, Orange Park, Fla., and a daughter, Kimberly Bynote, Omaha, Neb. Gene is also survived by his brother and sister-in-law, Edgar and Aileen Burr, Spearfish, his lifelong best friend, Jerry Witcraft of Sturgis, and his special cousin, Claudine Sullivan of Florida. Also surviving are his six grandchildren; Desiree Bynote, Oliver Burr, Hilary Burr, Brandon Burr, Alexie Burr, and Lauren Burr.

He was preceded in death by his father, William Burr and his younger brother, Jack Burr.